Do the Walk on Life!
Do the Walk on Life!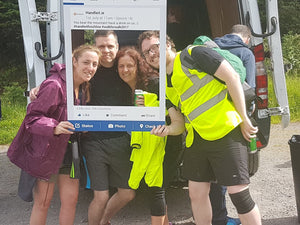 This month started off with a bang. No we didn't open the new customer floodgates or get huge capital investment. This month was important to us because of the Eleanora's Walk for Walk. An annual mountain trek that takes place on the first Saturday of July each year. For the past decade or so we as a family have been involved in one way or another. This year however was our first time being involved as a sponsor.
The Walk for Walk is done in aid WALK. Which is a local organisation based in on the long mile road in Walkinstown.
So on July 1st, seventy plus people were picked up outside the Eleanora's pub and dropped off at Djouce Mountain, Co. Wicklow. The entire handleit.ie team were right there with them too. Ahead of us was an 11.5 km trek. The weather conditions on the day were superb with only a touch of rain at the summit, which cooled us all off after the ascent.
By the time we had reached the Powerscourt Waterfall everyone had built up quite a thirst. Which was ideal because handleit.ie had sponsored the finish line refreshments. As the participants assembled in the Crone Woods car park. We provided them with a cold beer or soft drink, depending on preference. We thought beforehand that we might have picked up too much beer, but that wasn't the case. In fact we could have done with another tray.
A great day was had by all. We finished up back in the Eleanora's for some sandwiches and a pint with all the other hikers. Well earned if I do say so myself. We would like to take this opportunity to thank everyone who came out and tackled Djouce with us. We would also like to express how proud we are to have sponsored this event and to support WALK who do nothing but great work. We have to, of course, thank the Eleanora's for helping us to loosen up the muscles after!